I posted a question about this bike earlier, but thought I'd make a (re)build thread for it. It won't be a restoration, it will be a rebuild. This is posted on a couple other forums too so it may look familiar to some.
I've been casually looking at Speedsters and Racers for a while now. This one had been listed on Facebook Market place for a bunch of weeks when I finally saw the ad and for some reason I decided to get it. I'd rather have the next size larger frame but I'd have to get a later bike for that. Which coudl happen... but that'd be a different thread so on with this one.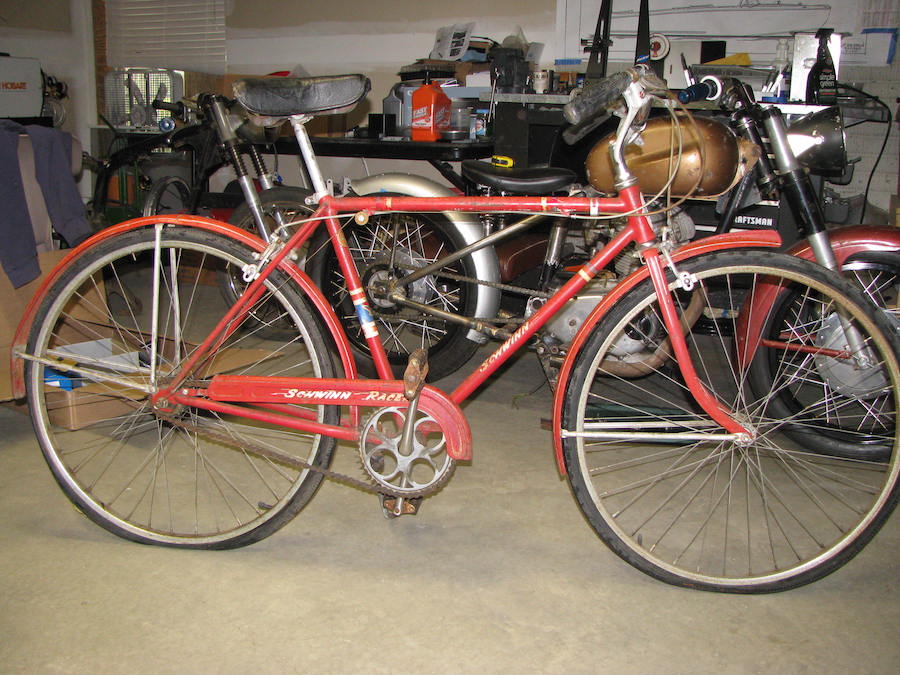 The serial number isn't actually listed in the database. That's what I asked about earlier and I'm comfy with the explanation that it was probably stamped on a day that there is no data for. Best guess is it was stamped in the 28th or 29th of June, 1956.
Not a great picture, but when I was putting it in the stand I noticed it has a "Schwinn" script on the seat post. I hadn't seen that before, but this is earlier than most of the bikes I worked on in the past so I'm sure there will be a few things I learn along the way. As I said, I plan on rebuilding this, not restoring it. It's going to have "incorrect" details when it's done.
Speaking of incorrect details... I thought this was a fix for a broken kickstand when I first saw it...
...but upon further investigation it seems the early Racers had bolt on kickstands?
I'll be honest. One big draw to the bike was the front fender style. I could have bought a later bike in better shape for what I paid for this... but it would have a smooth fender. Gotta have the fin!
A later bike also wouldn't have the cool graphics! I hadn't seen these before either and I like them.
The rear fender has taken a beating. I think I can work these out without destroying the paint too much?