For Sale: Pre 1900 Ladies Crescent Model No.10 - fully restored. Having restored about 75 antique bicycles over a period 35 years it appears this will end, for me, the hobby I've enjoyed so much since 1985. During this past summer I suffered a serious shoulder injury that has now been diagnosed as a servere rotator cuff tear. There is a remote possibilty the tear could be repaired surgically but given my 80 plus years on the planet and the seriousness of the tear I've elected to, at minimum, put it off indefinitely. Of the 75 bicycles I've restored, 33 of them are currently in a private collection in Switzerland, some of which are featured on my website:
timemachineslimited@aol.com
This particular bicycle was purchased by me last Fall from a good friend and fellow member of "The Wheelmen" whose interests lie more in line with early "Ordinary's" ( high wheel machines ) than the Safety bicycles that began to appear in 1895-6'
The bicycle itself was produced by Western Wheelworks in Chicago in 1899 and was, when I received it, in quite rough cosmetic condition but proved to be mechanically very sound and with no frame/fork damage or any early repairs. Clearly it's 100 plus years in storage was spent in a relatively low humidity environment. I've included a few pre-restoration pictures taken the day I brought the bike to my shop.
RESTORATION DETAILS: The frame and fork were hand stripped to bare metal, smooth sanded, primed ( 6 coats - sanded between using 2500 W/D paper ) the sprayed with 7 coats of Gloss Back Lacquer - hand rubbed between coats with sucessivly finer compounds, and finally waxed and polished. Brightwork was re-nickel plated and highly polished with the exception of the hubs and the frame of the Christie saddle which were Powder Coated with a burnished nickel mix and then polished. The warped and badly split rims were replaced with reproduction Maple versions fit with aluminum inserts set into, and hidden beneath, the 700 x 38 Gum Walled tube type tires. ( included in the sale are a set of all white 700 tires that I purchased but changed my mind when the time came to fit the tires and mount the wheels. The rims were produced by Noah Stutzman of Stutzman's Wheel Shop in Baltic Ohio who also pruduced the rear fender in the same clear Maple. The oil headlamp and the tire pump are added accessories that are period correct and typical of those found on high end bicycles produced at the turn of the century. I am including in the sale the display stand (shown) which I modified to accomodate the patented Crescent rear chain adjuster which, in itself, is a technical marvel. The pedals are fit with reproduction Crescent script rubbers and the reproduction cork handgrips are an exact match to the originals. The pin striping on the frame, fork, and rims is all hand painted by me and is not automotive type striping tape as I've noticed on some restored bike seen at shows and exhibits.
The restoration was completed to the highest standard for museum display, to find a featured place among the bicycles of the most discriminating collector and, of course, it would also be a great pleasure to pedal around your local park on a sunny day. The bicycle is offered here because my patron in Switzerland has already purchased from me a near identical Ladies Crescent Model 10 which I do believe is pictured on my website.
I've tried to include accurate and detailed pictures of the bicycle, both full view and from many angles, as well as close up details to the extent that my little Nikon camera is capable of .
The purchase price for the bicycle is $4,000. plus shipping costs to anyplace on the planet. It can also be picked up in Sebastian, Florida 32958 I do not charge for personal disassembly and packing for shipping. My shipper of choice is: bikeflights.com who use UPS as their transporter. Each of the 35 bicycles I've shipped to Switzerland with Bike Flights arrived in perfect condidtion with never a claim filed. They charged me, for example, $180. including insurance to ship a bike of similar weight and dimensions from Florida to Oregon.
I'd be happy to answer any questions about the bike and it's restoration by interested parties: Phone: 518-339-7867 or email:
angelasgrandpa@aol.com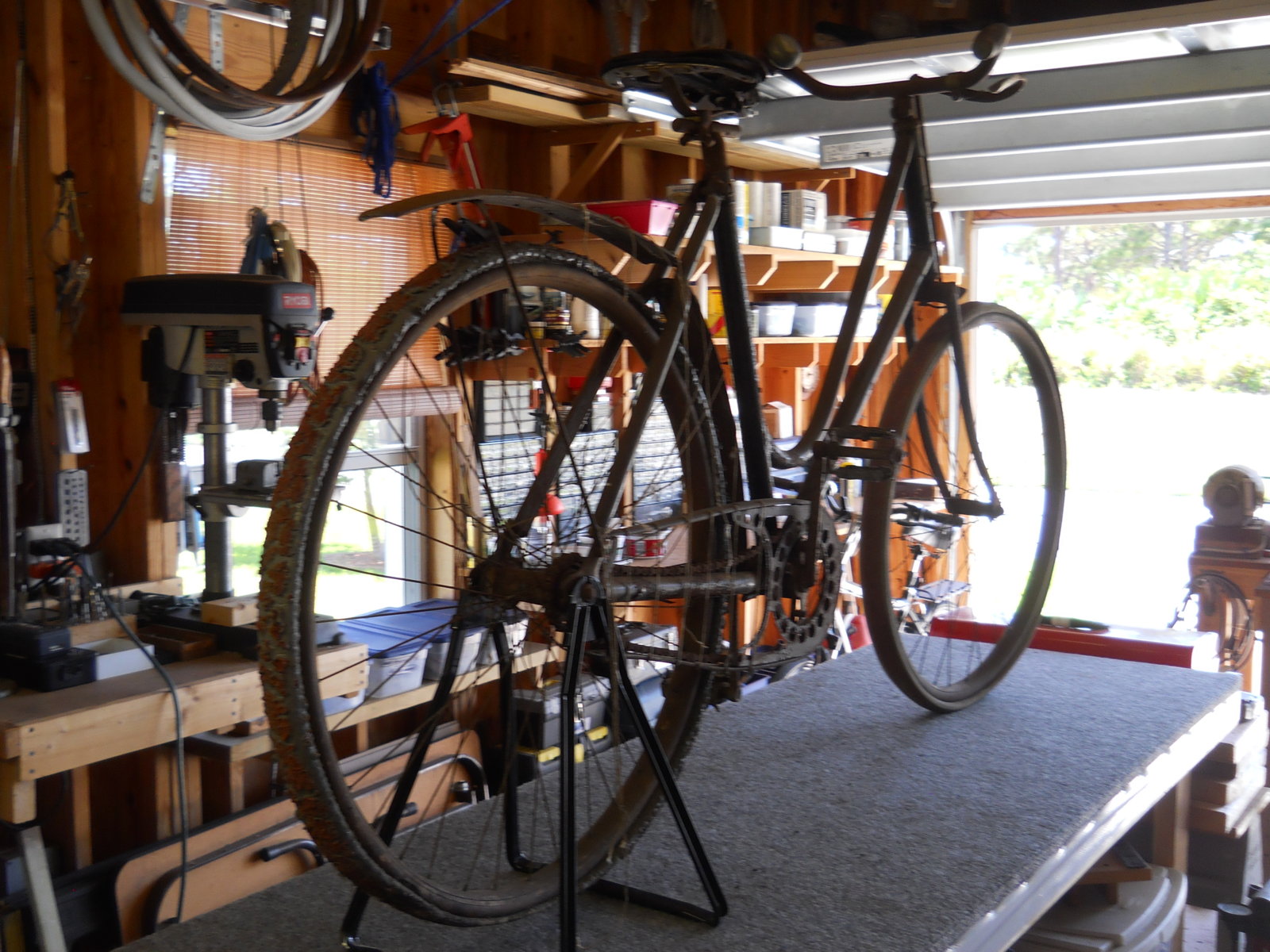 Last edited: