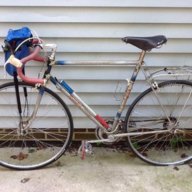 Oct 28, 2011
1,553
Cleveland - Ohio
The bike has Lamber crank set, rear wheel is a Ukai with Lambert hub, bars.
Brooks professional saddle.
Gran Compe brakes.
Suntour Cyclone derailleurs and endbar shifters.
I didn't find any serial number, but on the frame there are a lot of stickers (what should I use to get rid of them?)
The fork is probably a replacement, but no signs of damage at the frame.
Any idea of the year of fabrication?