Feb 11, 2012
1,450
Burbank, United States
RAREST OF THE RARE ... !!!
1895/96 Columbia Model #44 "Blue Rimmed" Factory Racer
Columbia was racing their "Blue Rims" since about 1892. They called them the "Blue Rimmed" Racers. Other bicycle manufacturers had their own - like the Gormully - Rambler "Copper Rimmed" racer or the Wolf-American with their "White Rimmed" racer or even the Orient and their "Purple Rimmed" racers. There are others but more later when I show those factory racers.
This bike came from Carl Burgwardt many years ago ( early 80's ). Carl had a knack for finding racing machines. Unfortunately the story has been lost in the last 35 or more yrs but it is strongly believed that this bike is the actual bike raced by the great Eddie "Cannon" Bald. The main identifying feature of the bike when it was found in Buffalo ( where Bald is from ) is that only Eddie Bald raced with this particular style bar. These bars are very specific and only he raced with them late in 1895 and into the '96 season before he went to Barnes to race the "White Flyer". When he raced with Columbia in '95 all the team members raced with the factory Columbia bar as seen by the lithograph in my collection ( photo attached ). Other team members were Ray Macdonald and W.F. Sims ( who used to race for Gormully on a Model #4 before joining Columbia ). It was late in 1895 that E.C. Bald changed to these bars and this is how the bike was found. There is one other identifying frame feature on the bike this bike has that seems to identify it as his racer.
I'm not quite finished the restoration but it's close enough to show a couple photos anyway. I'm not saying 100% that this is Eddie Bald's bike but ... what are the chances of a Model #44 that he raced with having these bars and being found in Buffalo where he raced!
> Tires are Robert
Dean 1-1/2" smoothed down.
I still need to change out the toe clips for the ones Bald raced with later in the year. The ones on it now are when he raced early in '95 with those original stock Columbia bars. The bike was found without the toe clips.
An original Lithograph showing the Columbia team in their racing colors. It is the only known picture showing the Columbia colors. Appox 3ft x 2ft hanging in my office. ( colors modified slightly here )
We know this is 1895 because of the handle bars and the toe clips. Also, with a magnifying glass you can clearly see the artist sketched in "44" on the badge.
Asa Windle is Eddie Bald's handler and he kept him throughout his racing career. Asa Windle was the cousin of the great Willie Windle champion cyclist.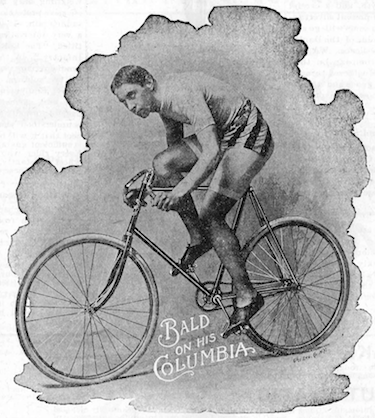 Last edited: