I posted about going to pick up this bike here: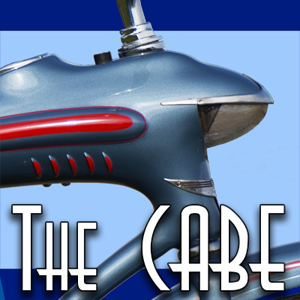 I saw a Norman-built Western Flyer on Facebook and was immediately drawn to it, but being in North Carolina this presented a pretty good trip, too long to do at the drop of a hat. I asked about the bike but it was sold, so that settled that. But then a few weeks later it popped up again, the...

thecabe.com
But this thread is on the bike itself, so this is probably the more appropriate section. I had the handlebars out today to adjust the head set bearings and took some detail pictures while I was at it. The seat is a Lycett and maybe a little older than the bike, but it fits. The brake levers and calipers have no visible markings but they look identical to the ones on a late '50's Phillips I have, so I'm guessing these are Phillips as well. The head set is marked T.D.C. and I was expecting the rims to be Dunlops or maybe BCC, but they're "Jointless", a name I've never seen before. The front hub is marked "H R Patent Pending, Made in England", nothing else that I can see. The red paint is faded pretty bad on one side (maybe exposed to the sun on that side) and the decals are pretty worn, but you can still see where they were. And comparing the lines of the two frames in the last picture, they're very similar despite different details.