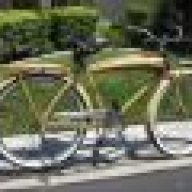 Wore out three sets of tires already!
Oct 23, 2011
856
Las Vegas
Just acquired the correct hanging tank for my '39 Black Elgin. Thanks Catfish! It's gonna be blasted and painted to match my '39 lady!
Now. Below are a few photos I've found of the rare Westfield built Elgin with tank. I have no Westfield built Elgin catalog shots, and only have these examples to go off of. The Murray Elgins (with the long tank that goes past the seatpost) seem to be more prominent. I am avoiding those examples. Below is everything I have for a Westfield Elgin (prewar). What do you guys think I should do? Does anyone have any catalogs for a '39 Westfield made Elgin? The tan/orange Elgin is a 1940 I'm told, with the curved seatpost.
Which
tank
paint scheme looks the best?
Last edited: