Earlier this week I took a trip up to Washington, DC to pick up a couple of bicycles from a 17th century re-enactor friend of mine. The first is no big deal, I definitely know what I've got:
A late 60's/early 70's AMF Roadmaster Skyrider (reflectors in the pedals, no BMA/6 sticker). That'll be a usual teardown, cleanup, new tires, and hopefully I can pull enough money for it to cover the cost of the tires.
It's the other bike that has me completely in the dark. I've messed a bit with pre-WWII bicycles in the past, but they've invariably been British, which means they weren't that much different from what I've been working on over the past fifty years. This one is American, and it's definitely like nothing I've wrenched before. In fact, I wasn't even sure what group it should go in, until I figured out it has those 28x1-1/2 in tires that remind me a whole lot of the sewups I've been riding for the past fifty years (yes, the fork is bent - first project). So, I stuck it here: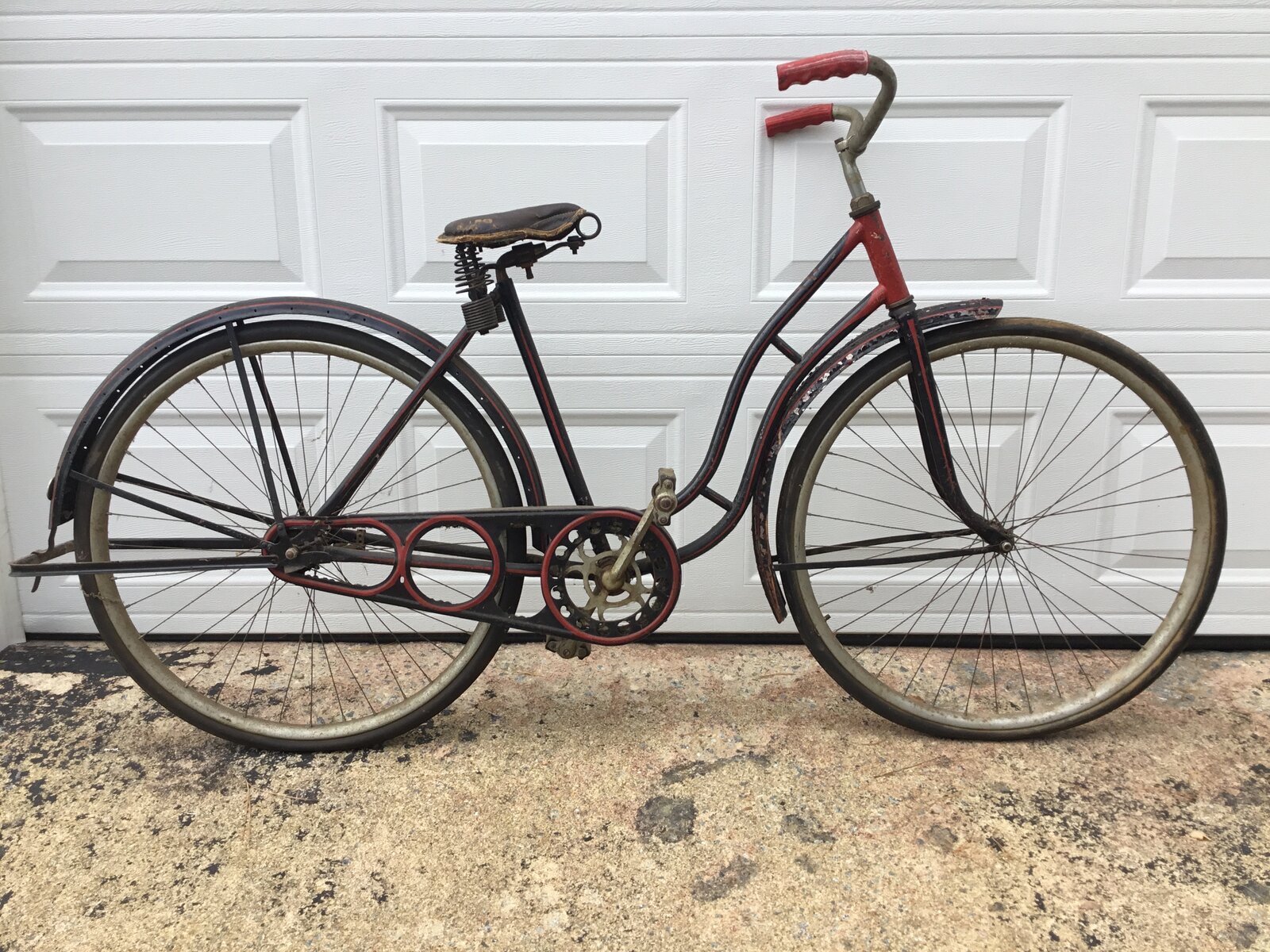 A few more detailed shots:
Yep, no head badge of any kind, nor do there seem to be mounting holes from where a head badge was previously mounted.
Good old New Departure Model D coaster brake. Skip tooth chain, of course.
Serial number appears to be 481601.
Tire size (does anyone make these anymore? - not that I'm necessarily planning on replacing them).
And to finish, a detail shot of the worst part of the bike. How I'm going to get that off the bike without having a snowfall of paint chips and a bare metal fender at the end is currently beyond me.
My plans, as they currently stand: Take the bike apart, clean everything as best as possible, save the finish as well as possible, straighten out the fork, put it back together and hopefully take it to the Westminster, MD swap meet next February for either sale or trade. I have no interest in trying to ride it, thus my comment about not necessarily replacing the tires (although if replacements are available, and aren't too dear, I'll consider replacing them). But first I'd love to know what it is I've got. (And if anyone cares to venture a guess as to market value, both in it's current condition, and after, based on a competent cleanup and polish, I'd be appreciative. My total experience with this vintage of bicycle is the threads I've been perusing here since I joined.). I'm very glad I did that post-WWII forties Rollfast previously, as it gave me some experience before tackling this one.
Thank you.