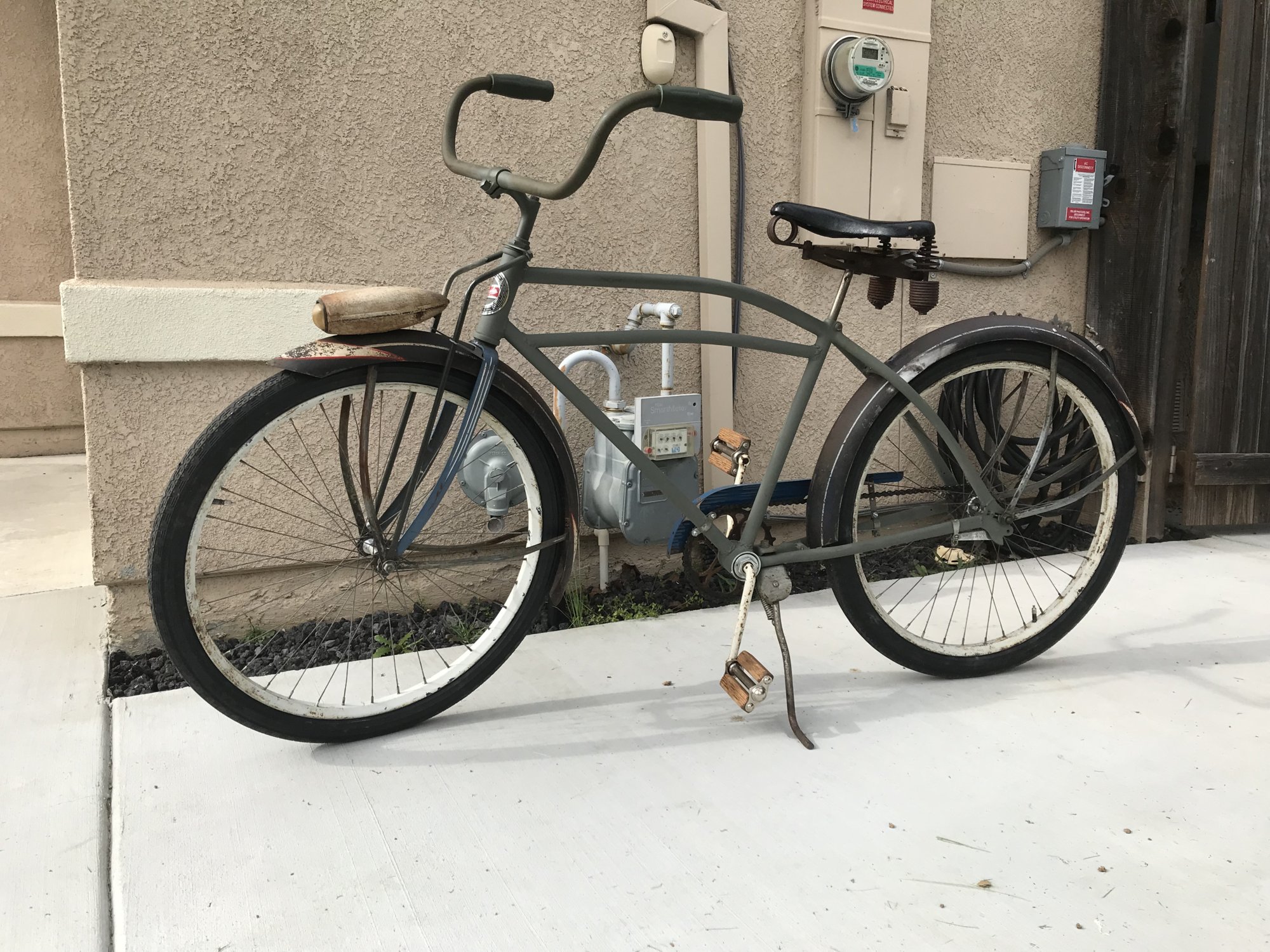 Last year while showing my G-503 (jeep) at an airshow. I was getting annoyed that all we have in our group is Jeeps. And one half track. I would love to own more vehicles and bigger ones. But I dont have the space yet. So I thought I would try to find or build a G-519. Besides it would give me faster transport at airshows and add some viriety to our display. I purchased a bicycle on eBay that looked correct, I got lucky. The Frame turned out to be a 1941 Westfield Columbia. I started piecing together as many parts as I could find on here and eBay. So far I think it looks just about right. The Truss rods are from a Women's Huffman. I need to cut them down. But the arch and bolt are correct. The seat pan is in the wrong spot. I need to move the bolts. The seat frame is incorrect. I will weld up that slot and it will look pretty good. The sprocket is to small of a diameter but looks correct from 5' away. Kickstand is correct. Handle bars are NOS. I purchased the fenders on eBay. They came with the correct un marked headlight. But they are from a road master and I need to replace the fender brackets. Just one thing on the fenders. They seem too sharp for a G519 I brought a bunch of pictures into CADD and I drafted up a shallower arc for the point on the gothic fenders. If anybody can post a picture of the end of fenders for me to reference before I start cutting. You can see my sharpie cut line on the back of the front fender. I have to get this pieced together in one month. I have an airshow at the local AFB and wish to debut there. I will be making a tag for it. My grandfather served in the Army Air Corps as a B-17 Mechanic and I wish to assign it to the base he was based at.
I know this will never be a real G519. But I plan on making it as close as I can. Until I find a real one that is.
Still looking for correct rims, hubs, also looking for a correct Columbia Fork and a Coffin style chainring. Oh and the tool bag. I have seen a few sell on EBay. I should have tried to get one of them. But I figured I need to worry about finishing this as is. Also can someone post a picture or dimensions of a tire pump? I am trying to figure out if a style currently available would pass a 5' test.