Wore out three sets of tires already!
Yes, 190 pounds for $135, delivered to Memory Lane, on Friday only. Be sure to scroll through the pictures below. There's some really good stuff there!
I will consider trades for
Parts for this 1948 model year Roadmaster Luxury Liner(many are standard Roadmaster / CWC parts)

Rear wheel (Bendix hub)
Chain adjustment bolts
Chain guard (red, no text)
Rear fender and reflector (black painted, without raised ridges at bottom)
Persons Supreme pedals
Grips
Rear light
Tires - modern, 26x2.125 blackwalls

Interesting / odd project bicycles - especially those rarely seen in the states, but I'm open to many things.
$135 Delivered to Memory Lane (Friday only)
Other offerings I can deliver to Memory Lane on Friday (but will not bring unless purchased) include:
Items would need to be prepaid. Most of the stuff is boxed up, so I cannot answer particulars. Note that the speedometer head has been removed from the lot, due to an accident.
I thought it would be fun to build a Schwinn Stingray clone on an adult-sized frame. I need to move on all the parts I have sitting around, so here's your chance for a great deal on my various parts and my decision to keep my options open. Three speed? Five speed? All the choices!
Many of these parts are correct or close to correct for Stingrays, Krates, Fastbacks, etc. The ball end Weinmann brake levers (two pair) are some of my favorites. There are a lot of the little fussy parts, like chain guard screws and bolts and cable clips.
There are brake levers, truss rods, Weinmann brakes, Schwinn forks, and more. Also: A pair of 26" S7 wheels!
One of the neat things (see below) are hundreds of NOS Sturmey Archer spokes and nipples. Also a 1939 Schwinn frame. Also a nice Persons long spring saddle frame.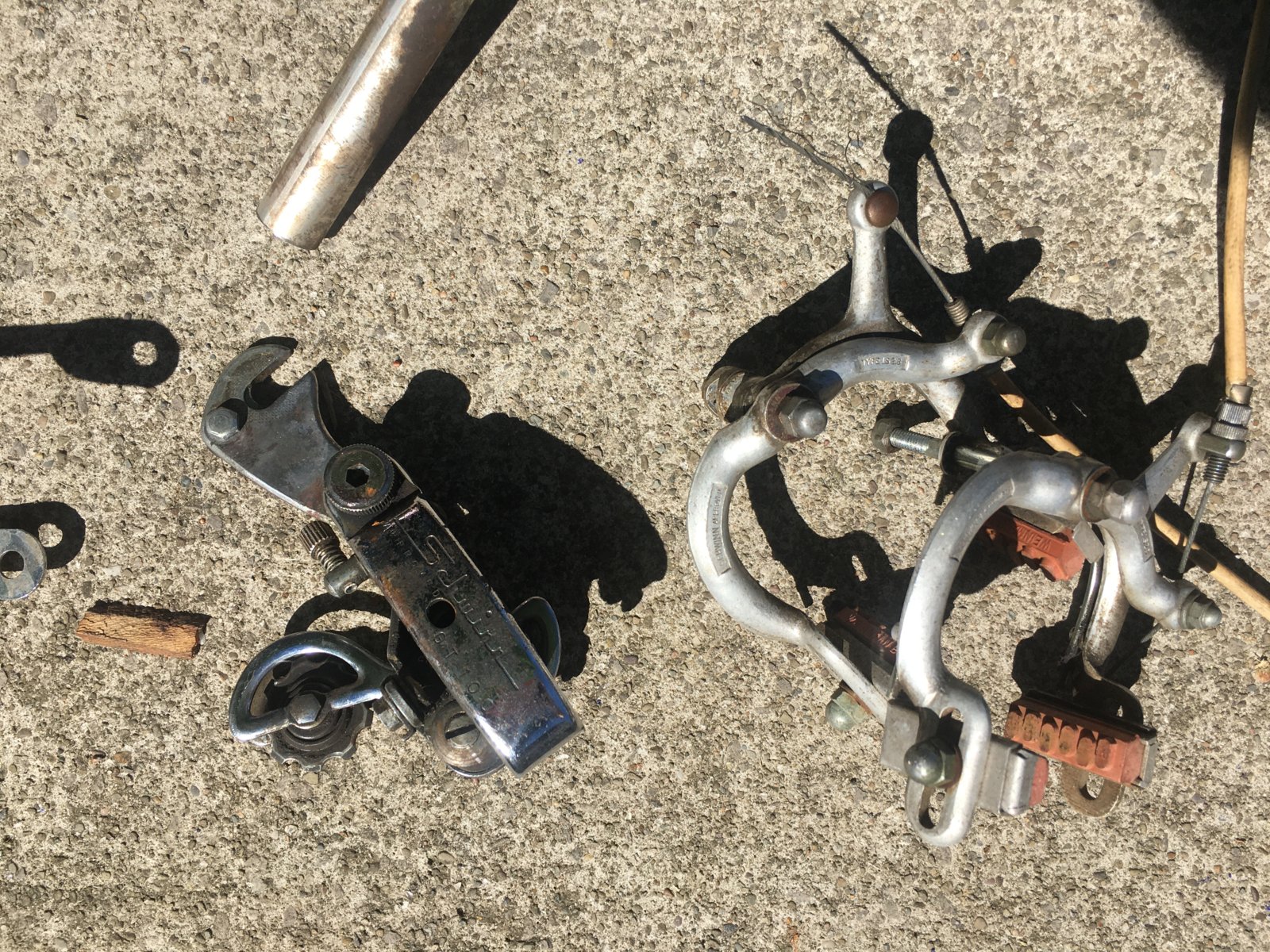 Last edited: