So, getting back to what this thread is about which is learning about these early Sidewinder's. We have now enough evidence to dig deeper in this. We know of 2 early white sidewinders that we can see the build dates on and they are built a month apart from each other in August and September of 1981. I do not know when the catalog was officially released for 1982.

I have not found anyone to verify the claim of the silver paint turning white, yet. I do find it odd for that to be the case though. Like

@birdzgarage

I also have experience in the restoration world, I was born in a body shop and for the last 12 years I have been professionally restoring and preserving classic cars. I do have one factory white Schwinn frame, it is a 1961 however, that is every bit if not worse than the white frame in question here. I too was thrown off by the patina on this one in question originally, to me Schwinn paint doesn't crack like this one has, but damn if my heavy patina white frame doesn't show the same appearance

Let's look at what we do know, for those who are interested in learning about this time in Schwinn's history… We have two bikes that appear to have left the factory in white, I reference these two because we have one in hand and the other we have good online pictures of and can read the date. Both have their special blue Schwinn seat tube decal and the yellow downtube safety decal. However, both do not have any indication of ever having a "sidewinder" decal or any marking relating to the name "sidewinder".

At the time based on what I can find Schwinn did not offer another frame that was built or configured like these. So, if these bikes were white, what were they? Having been in the car business since birth, I know it's common for manufactures to release new models during the previous model year, but how soon is too soon? August is early, but 3rd week in September is getting closer.

Why would anyone purchase a new bike, completely disassemble it, that's the only way you are gonna get white overspray in the frame, then put it back together and then walk back into the Schwinn dealer to purchase a set of factory decals and stickers, of which one is a safety sticker? Seems odd to me, hence why we are trying to learn rather than just speculate based on what the catalog says.

So the idea was brought up about the "disappearing pigment act of 1981", a possible special dealer order or a prototype. So where do we go from here? We reach out to those who might know more than us, not those working in a dealer at the time, higher than that.

I reached out to Richard Schwinn, co-owner of Waterford Cycle now. To ask him his thoughts and see what could have gone on back in those days. Here is what he said:

"

Thanks for your email. I don't have any particular insight as to the styling deviation. In 1981, all sorts of crazy things were going on at Schwinn, but I was working outside of the Schwinn world. It could have been a special run for one of the regional distributors or some kind of prototype. Schwinn had a serious inventory problem, so it doesn't surprise me that they used a crank for this model, with was an early low-end mountain bike.

Sorry I can't be more help,

Richard"

I then asked him if it was possible or common for dealers to order special colors.

"Dealers wouldn't be able to get a special color, but a regional distributor might. Richard"

I am going to continue to research this because I am interested and want to learn, I hope soon I'll be able to lay my eyes and hands on this frame in question to examine it closer. I hope all of you are interested in learning more about these potentially white sidewinders.
This has to be the most entertaining message thread that I have seen on this website to date!
There is no evidence to even suggest that the frame in question came from the Schwinn factory in white! Speculation, and the will for it to happen is not evidence!
To really understand why the chances of this being true are slim, you need to understand exactly what was going on with the Schwinn company during that era!
I worked for one of the premier Schwinn dealers in my area during the late 70's & early 80's, and I was there in the middle of things watching it all go down! When it came to the mountain bike industry, Schwinn was YEARS behind what was actually going on in the real world. I was building custom MTB at my shop years before Schwinn issued anything that even resembled a MTB. By the time Schwinn released the King Sting in 81, and the Sidewinder in 82, other companies were already selling MTB, and shops like ours were building custom MTB from custom frames. When the Sidewinder hit the dealers show room, it was a total FLOP. It's geometry was all wrong, and it just looked like a modified Varsity with balloon tires........!
Now, during the early 80's, the Schwinn factory went on strike in late 80 into early 81. Production was at a stand still during that time. There was a recent message thread that was discussing why there were so many MR built frames when Schwinn was on strike in Dec. of 80, but there was no documentation to verify why in that thread, so that is still all speculatory. They had some serious production issues after that, and it took them some time to get things ramped up again after the strike, but the company was already circling the toilet bowl, and the Chicago factory started shutting down in 82, and finally closed in 83.
I learned long ago to never say never, but I also have common sense, and especially in todays world with misinformation being the "NEW NORMAL", I do not believe everything posted on the internet. Now that being said, IMO, the chances of Schwinn ever producing one of the Sidewinders in white, is slim, to none! It just doesn't make sense that Schwinn would produce a model in a custom color, when the bike was a total flop on the sales floor! And pictures of a white frame all rusted out, and someone's will for it to be something it is not, is not evidence that something ever happened.
Here is a pic of myself on the custom Champion MTB I built for myself in 79 long before Schwinn ever put anything on the sales floor that even remotely resembled a MTB.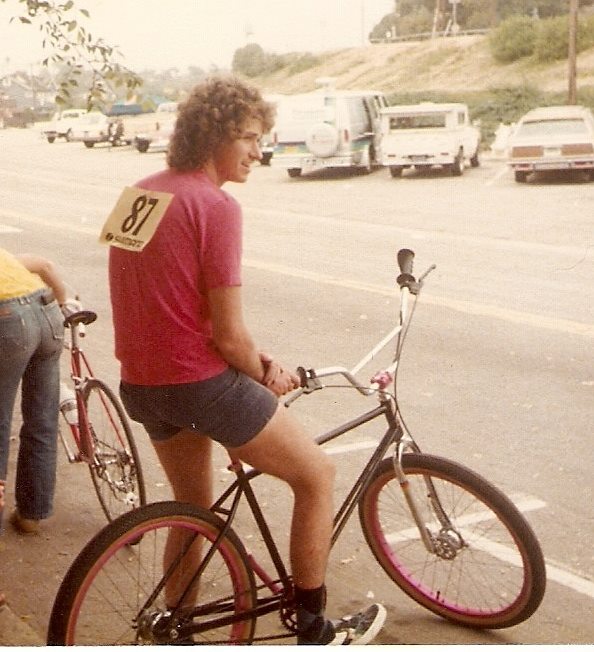 And here is a good video explaining the beginning of Schwinn's demise, that all started with their late entry into the MTB scene during that time.
Last edited: