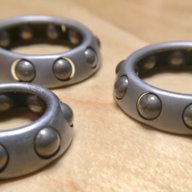 Wore out three sets of tires already!
Jan 12, 2019
813
49
Arizona
@GenuineRides
The patent angle is usually a good avenue to try. Here though, it doesn't work out because the Europeans had been using rear drop outs for several years before Schwinn started on the New Worlds in 1940. From what others have written, it seems like the Schwinn family spent some time in Europe in the mid 30s and saw how popular the lightweight bikes were becoming. They wanted to introduce some of the new fabrication methods they saw there too I bet.
When you search the Google Patents site for "Schwinn Rear Drop Outs" (Drop out separate words) you can find some Schwinn patents from the 1980's on frame designs. These patents "cite" the relevant "prior art" (old patents) that form the basis for the new ideas they are patenting. It is common practice and "good form" to cite the patents your company (the "assignee") has received in the area of technology you are making a new application in. When you look at the Schwinn patents for frame design, they just hand wave and write "common prior art" on the pictures of horizontal dropouts like figure 17 below. They clearly didn't come up with it, and the less they acknowledge that in their patent, the better for them.
Schwinn Rear Wheel Drop Outs
For example here's some stuff from the EU I found that is way before 1940 when Schwinn New Worlds started using rear dropouts. I have a feeling
@dnc1
may know some more about when rear horz dropouts started in Europe. Clearly it was being done in the early 1930s there.
French 1930 Wonder Ultralight
1934 Caminargent
@GTs58
It's gotta be stuff like being ruthlessly frugal and saving and using up every part you make driving this. I think this era promoted a different mindset. Battling in a world war makes this even clearer. When resources get scarce, you accept parts you may not have chosen first when there were previously more choices... I love the "mixmaster" parts of the war era bikes. Wrong number of mudguard stays, odd shaped or completely missing mudguards, weird old bottom bracket shells with several year old hand stamps that Fred found in a closet, it's all good.